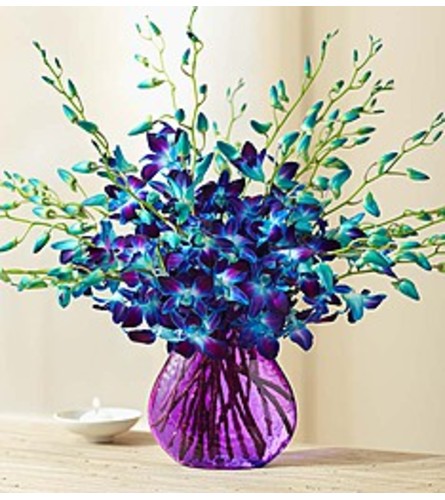 's Perfect Bouquet
Orchids Breeze
---
Description
---
Give someone special their own little piece of paradise with our brilliant orchid bouquet! These tropical beauties have been carefully dyed to transform each petal into a stunning shade of blue. Send a bouquet of 10, or double their delight with 20 exotic blooms.
Gathering of fresh Dendrobium orchids, available in bouquets of 10 stems and 20 stems
Orchids have been carefully stem-dyed so that each petal is a vibrant blue and no two arrangements are exactly alike
Picked at their peak on our premier farms, flowers are shipped overnight to ensure freshness
Add to their gift:
A clear glass Ginger Jar vase; measures 7.5"H x 4"D
Product ID KCF-953
Approximately 7.5"H x 4"D
What People Are Saying
---
Beautiful arrangement and on time!
High quality and terrific service! Thank you.
Good florist, were able to accommodate my request and deliver on time. Very happy, will buy again from them
Reviews Sourced from Lovingly
You May Also Like
---