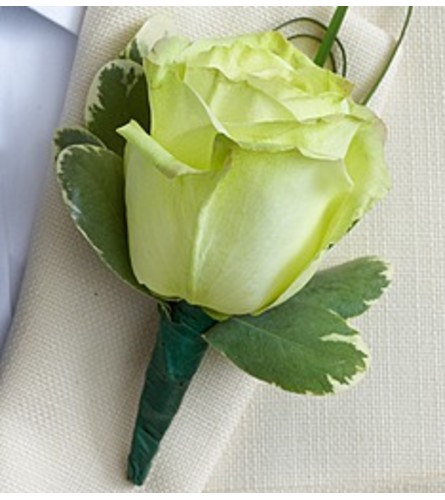 This product is currently out of stock.
Description
---
He's sure to stand out when sporting our beach-themed boutonniere. Whether you choose a green rose or a green Cymbidium orchid, each accented by bear grass, this arrangement is a stylish addition for him to wear on his lapel at proms, weddings or any special celebration. You can also choose our matching mini green Cymbidium orchid boutonniere, perfect for a ring bearer or any dashing young man.
Fresh-cut mini boutonniere arrangement of either a long-stem green rose with bear grass and variegated pittosporum or a green Cymbidium orchid bloom with bear grass; arrangements measure approximately 3"H x 2"L each
Ring bearer or child boutonniere arrangement features a green mini Cymbidium orchid bloom and bear grass; measures approximately 2"H x 1"L
Includes boutonniere pins for attaching to the lapel
All of our boutonnieres are hand-designed and arranged at a local florist to ensure they arrive looking their best on the big day
Our florists select the freshest flowers available, so floral colors and varieties may vary
Orders must be placed two weeks in advance to allow for processing
Product ID KCF-810
Approximately None"H
What People Are Saying
---
Thank You very very much!! I first tried to get flowers delivered by another company . They failed me 2 times! I will be using your services again Thank You! Thank You! Thank You!!!!Everyone Loved them
She was amazed on the colors and how it was presented Beautiful arrangement Once again awesome work Thank you !
Like always excellent flowers and service, best in all Miami Dade.
Reviews Sourced from Lovingly